Join Us Every Year On the First Saturday of December
Join us Saturday, Dec 2nd as the Nichols Improvement Association presents the 35th edition of our holiday classic. The NIAJBR takes place on a scenic rolling hill 5K course through the heart of the Nichols community. Walkers are welcomed to participate as well. PLEASE Come Dressed to Run – There are no indoor changing facilities.
Walkers are welcomed to participate in our newly introduced 2 Mille Health walk on the rolling hills of Nichols. Stroll, walk, push the kids…everyone is welcome!
The Nichols Improvement Association is a Not For Profit organization. Proceeds from the race go back into supporting numerous community events, maintaining our property, ball fields, community playground & the Starkweather House.
EVENT FEES:
$30 – JBR 5K
$25 – 2mile Health Walk
$20 – 18 & Under
FREE – Jingle Bell Jr. – Kids 1/3 mile "Fire to the Finish"

Prices will increase after November 15th by $5.
All 5k & Health Walk participants registered prior to Sunday, Nov 12th will receive a commemorative shirt, race bib. Dogs & JBR Jr participants will receive a complimentary race bib with the option to purchase commemorative swag. Shirts for registrations received after Nov 12th will be available while supplies last. You may not get your size, but you will get a shirt.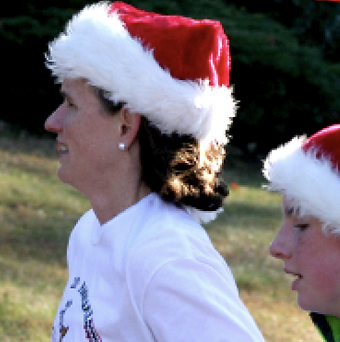 NIA Starkweather House – 1773 Huntington Turnpike (across from the Nichols United Methodist Church)
Times/Location subject to change.
Thursday 11/30    6:30pm – 8:30pm
Friday      12/1    3:30pm – 8:30pm
Saturday  12/2    7:30am – 9:20am
YES, you can pick up for other people- we encourage that to save time and stress!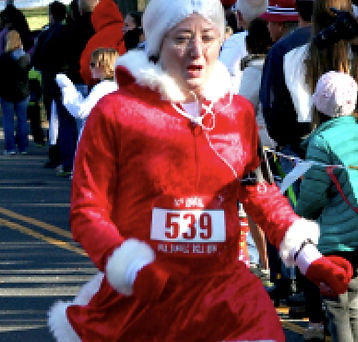 Long-Sleeve Holiday T-Shirts – Guaranteed to 5K & Health Walk registrations on or before November 16th. After November 16th, while supplies last.
Festive race environment – With many participants decked out for the Holidays
Kid's Fun Run – We don't check IDs
SATURDAY 12/2
Nichols United Methodist Church – 35 Shelton Road
8:45am – JBR Junior participants a meet at finish line and walk to Nichols Fire with volunteers.
9:00am – JBR Junior assemble in front of firehouse (1/10 mi north of the church > 5K start line)
9:05am – JiBR Junior starts (Ages 7+ first followed by Ages 6 and under)
9:20am – All Runners & Walkers assemble at 5K start line, announcements, Anthem
9:30am – 5K starts – Runners with Strollers & Dogs would go towards back of the pack please.
9:45am – Snacks & Fluids
10:15am – Awards
10:30am – Post Run Thank You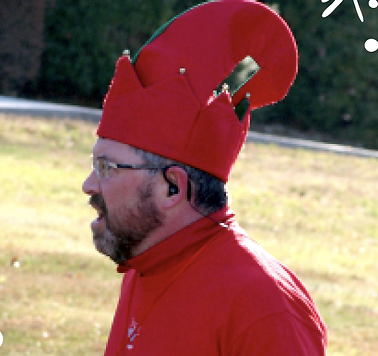 Race Sponsors Are Always Welcome